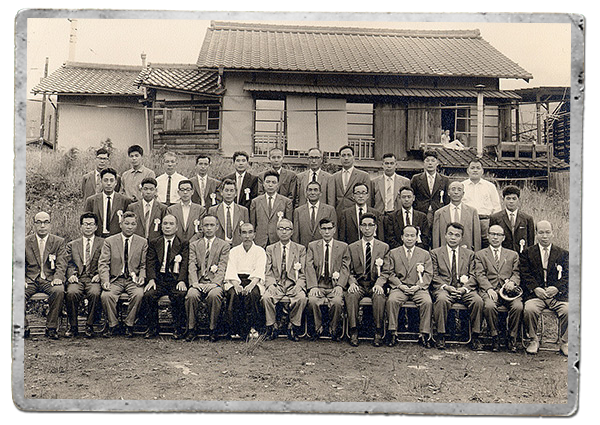 The Takamine Story
For more than half a century, Takamine has proudly dedicated itself to the art of fine guitar craftsmanship.
Its longstanding devotion to innovation and continual improvement has placed it among the world's premier acoustic guitar makers, with truly fine instruments that are the first choice of performing guitarists worldwide.
With humble beginnings in 1959 as a small family-run guitar shop nestled at the foot of Mount Takamine in the central Japanese town of Sakashita, the fledgling company took the mountain's name in 1962 and began in earnest the journey that led to the phenomenal success that is the modern Takamine company.
The timeline outlines that remarkable evolution.
Takamine Through The Years

1959
The small family-run instrument workshop that would later become the Takamine company is founded in the town of Sakashita, at the foot of Mount Takamine in central Japan.
1962
As guitar playing gains popularity in Japan, the small company is re-named as Takamine Gakki Ltd., after the mountain itself.
1968
The company grows to 60 employees and becomes a leading builder of classical guitars and mandolins. Luthier Mass Hirade arrives at Takamine and introduces many effective design and manufacturing improvements. The company later adds Hirade's name to many of its classical guitar models in honor of his contributions.
1975
Hirade becomes Takamine's president and launches efforts to bring the instruments to a much wider audience. Takamine guitars soon become available worldwide.
1978
Development of the under-saddle Palathetic™ pickup revolutionizes amplified acoustic guitar design.
1979
Takamine introduces its first acoustic-electric model, the PT-007S.
1986
The first "Natural" series guitar is introduced.
1987
Takamine marks its 25th anniversary with the introduction of its first Limited Edition guitar model, the EF25.
1988
Introduction of the Takamine parametric EQ (TP preamp; later redesigned as the AAP preamp).
1989
Innovative external battery box and replaceable preamp package systems are developed.
1990
The Steve Wariner signature model is introduced.
1994
Takamine pioneers the use of laser inlay work, resulting in remarkably intricate yet precise inlay designs.
1995
The Garth Brooks signature model is introduced.
1999
Fully automated precision neck machining developed. John Jorgensen signature models introduced.
2004
Debut of the first onboard acoustic guitar tube preamp, the CTP-1 Cool Tube®, and the Tri-ax "add-on" acoustic guitar pickup.
2005
Takamine opens a new headquarters and main factory in its longtime hometown, Sakashita, Japan. In the United States, Nashville's Grand Ole Opry commissions Takamine to design its 80th anniversary commemorative guitar.
2007
Takamine introduces its 45th Anniversary guitar.
2008
The Kenny Chesney signature model is introduced.
2009
The Glen Frey signature model is introduced.
2012
Takamine celebrates its 50th anniversary.
Toby Keith Signature model introduced.